The Ultimate Guide to Family Portrait Photography
A family photoshoot is one of the most effective ways of capturing the loving bond between family members, whether there are just three of you or you're including the entire extended family. One of the greatest honours I have is being brought into the family fold to witness and capture these beautiful moments in beautiful Adelaide settings that will be on display forever. But what do you need to do to ensure the shoot is a roaring success? Here are some of my top tips for family portrait photography…
Family photoshoot: Tip #1…
Be your authentic selves
There is literally no right or wrong way to approach a family portrait. It's all about what best represents your family! Whether you and the fam are fairly chilled, or totally zany, let's create a shoot that best captures that – not something that flips the script! It's painfully obvious when families are feeling uncomfortable, and it comes across in the snaps…
On that note, one of the best things I can do for you is just let you hang out together. I'll be there, melting into the background (almost) so I can capture your natural interactions, rather than sticking entirely with posed, stiff photos.
Family photoshoot: Tip #2… 
Consider where your family photos will live
Much like with newborn photography, considering where your images are going to end up and how they will tie in with your existing home décor is essential. I can help you choose a colour palate for your outfits, and even the right setting to complement your home.
On top of this, you'll need to consider the space you're planning on hanging your family portraits. Scale and finishes are important considerations. Many of my clients send me snaps of the spaces they're planning on utilising for displaying their photos. I can advise on which size of image you should be selecting as well as options for the final presentation. You may opt for traditional framing, canvas, newer boxed framed canvas or even wood art or acrylic! Each finish will have different implications for how I shoot and edit your family photoshoot.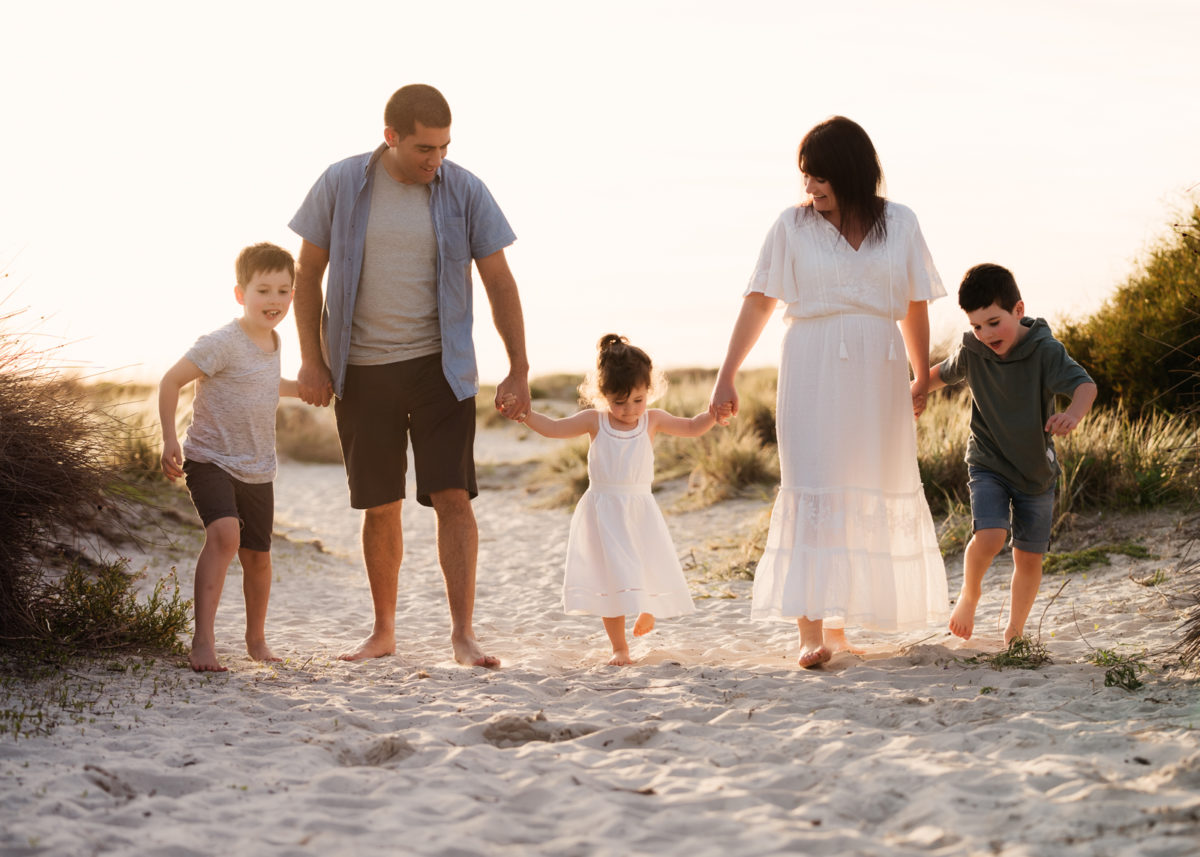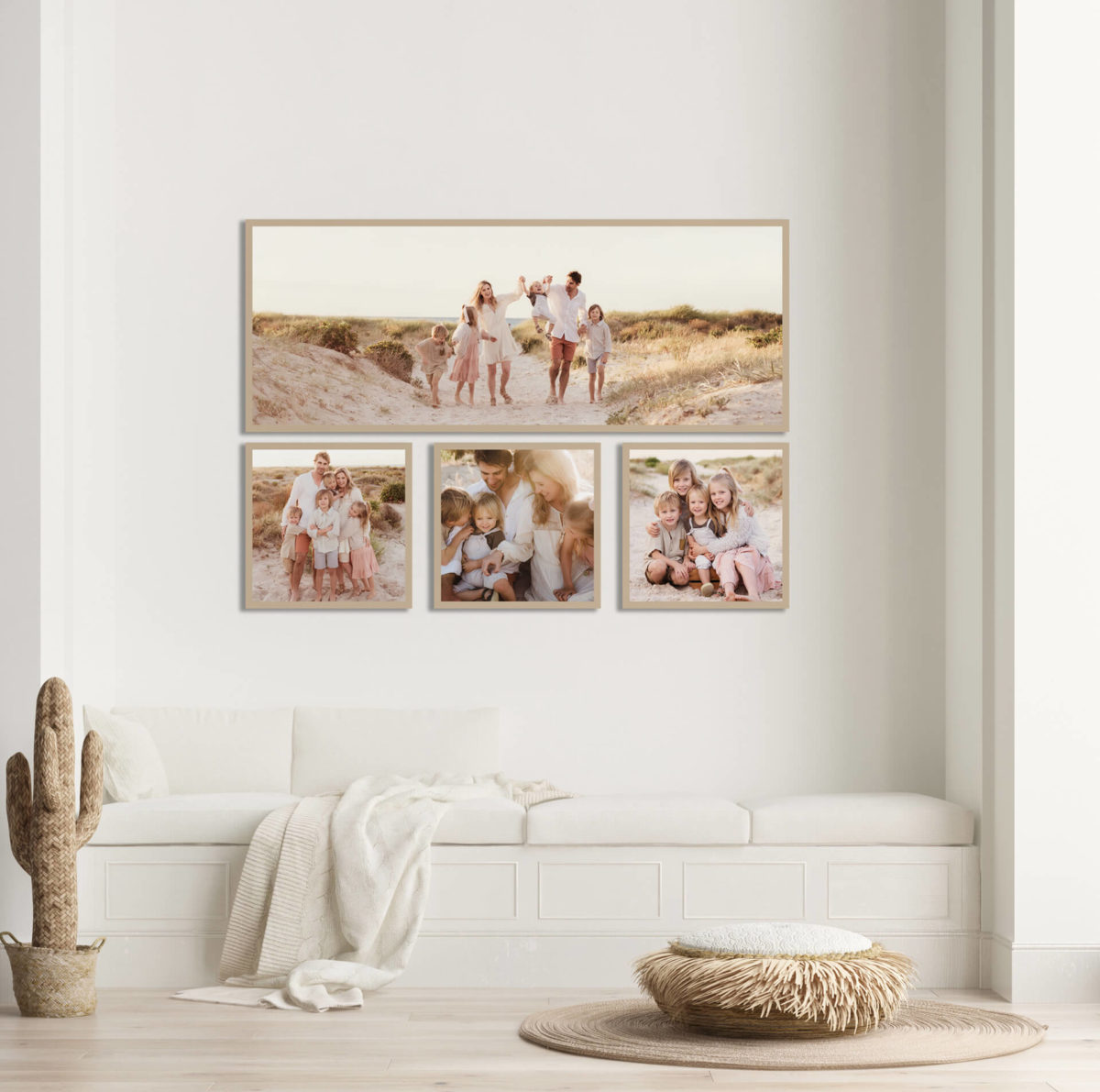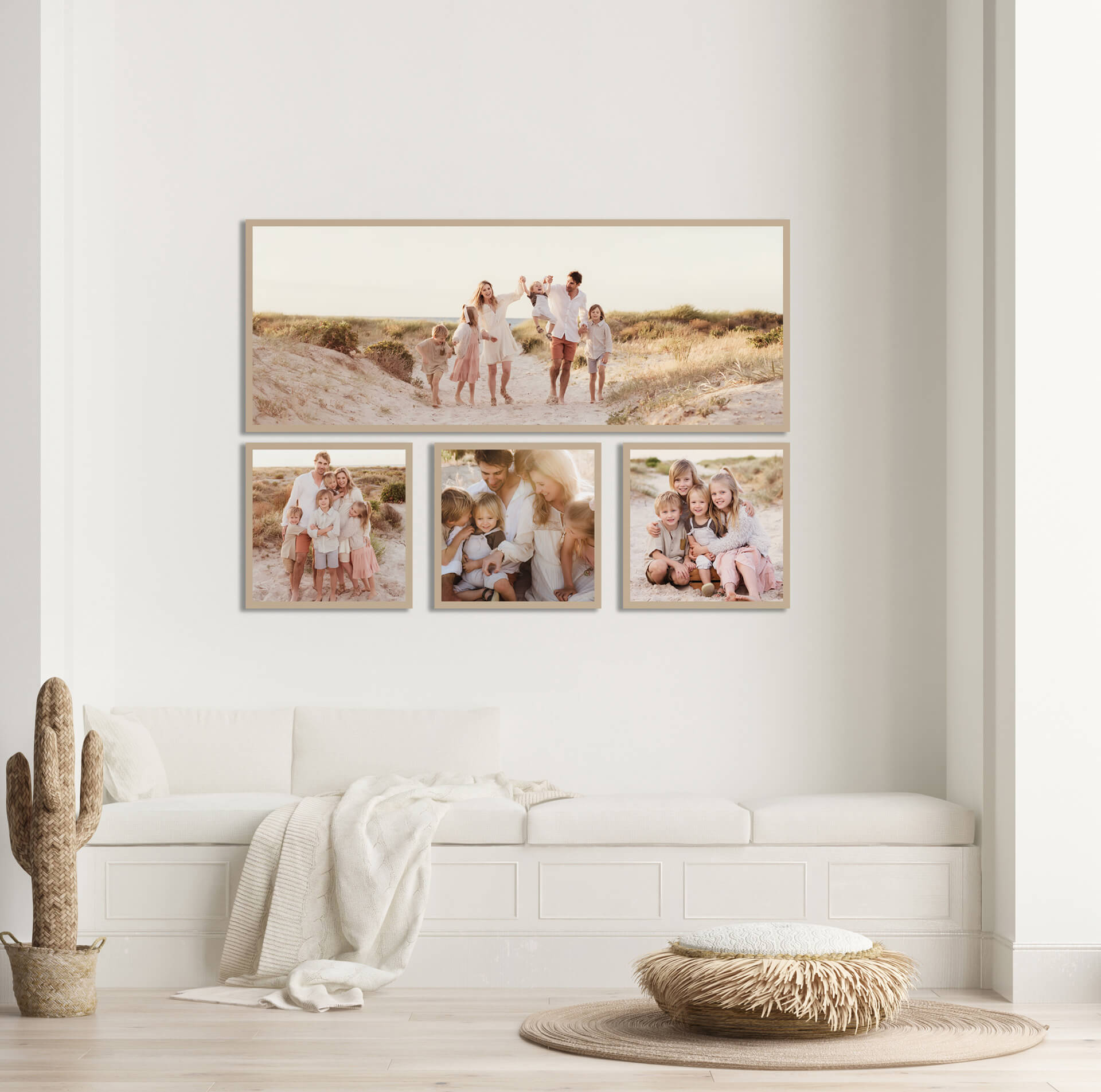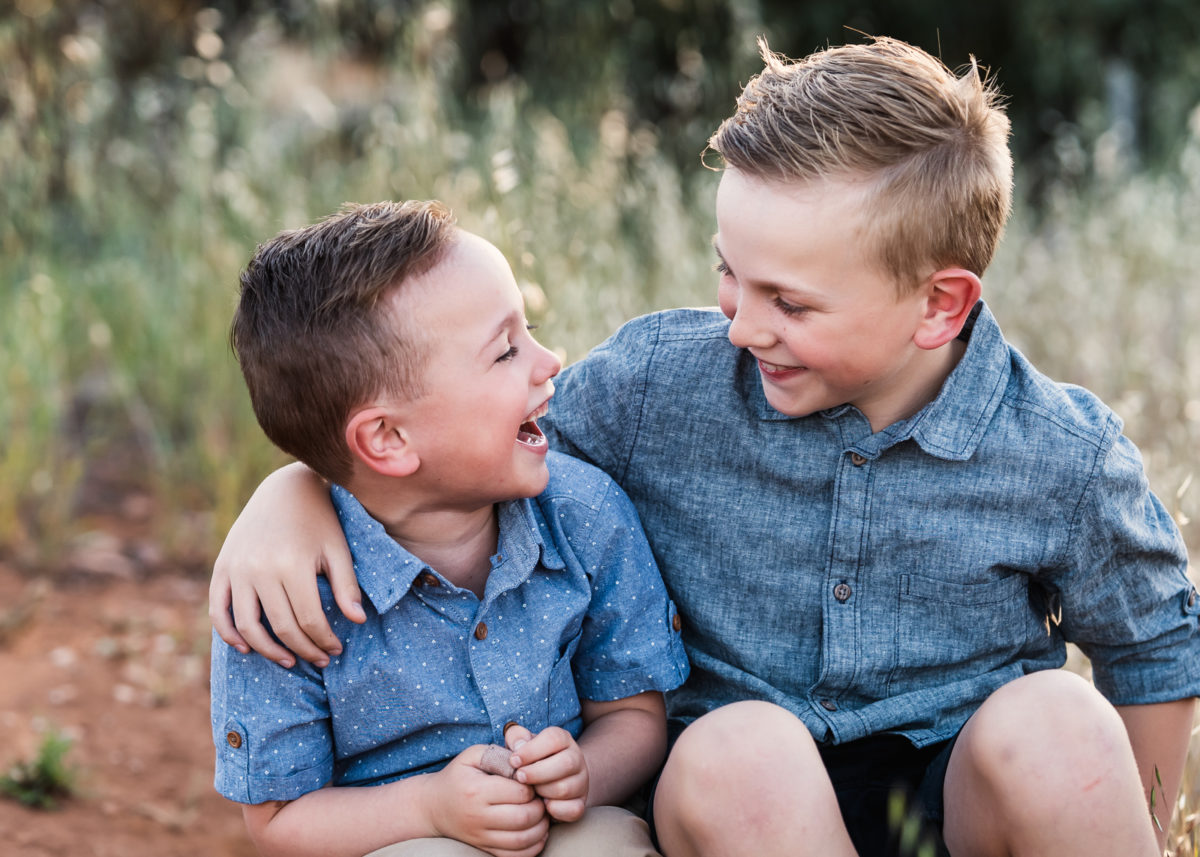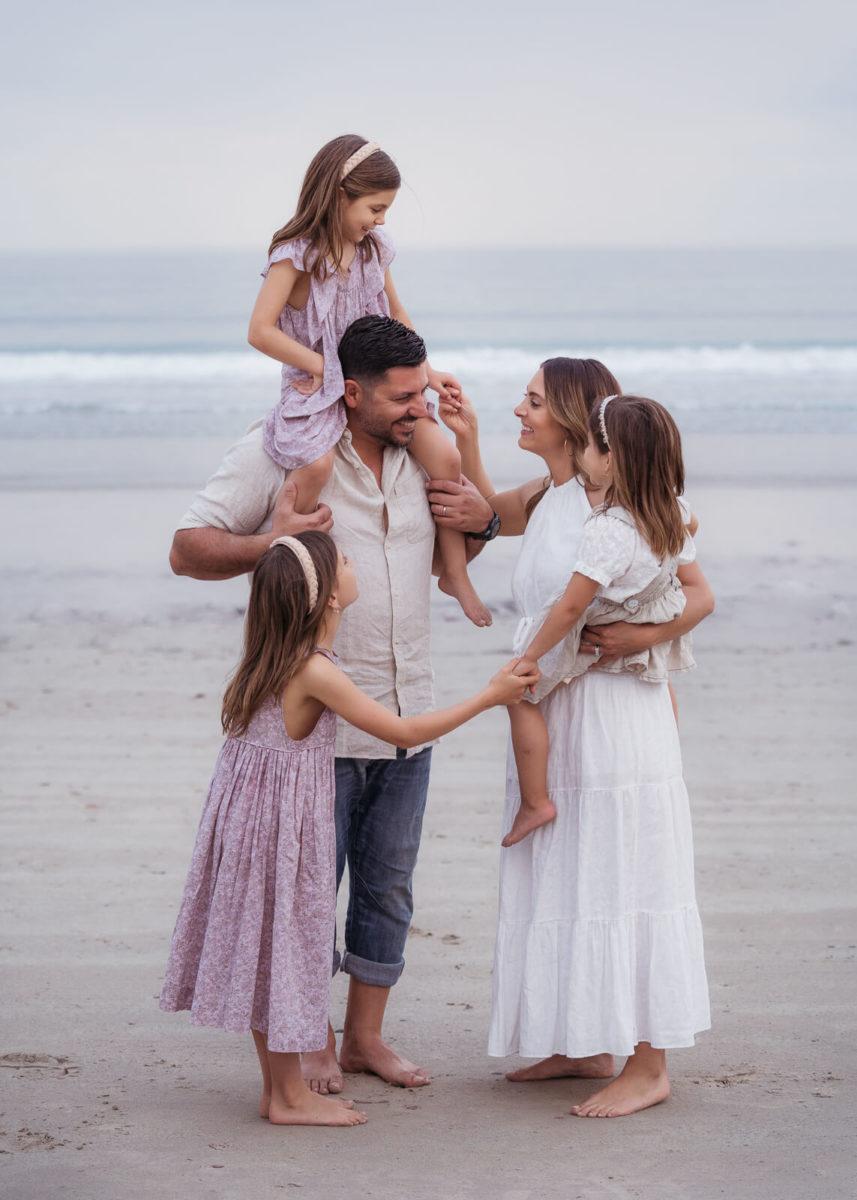 Family photoshoot: Tip #3…
Don't stress!
Remember, I'm a mum too. AND as an experienced family photographer, there's nothing I haven't seen. If little Johnny's having an off day, don't stress. It's totally par for the course, and we can work together to create a stress-free environment for everyone!
Also, I'll be in touch long before our shoot to better understand your family dynamic, and what's going to set everyone most at ease. Just let me know what's going on for your tribe – particular needs or personality types, favourite toys, tv shows, etc and I'll be prepped and ready for the day.
Family photoshoot: Tip #4…
Location is key!
The location choice for a family photoshoot usually goes one of two ways… For a newborn shoot, the focus will be squarely on the love and bond with the newest member of your family from the comfort and peace of my studio. With older children, outdoor shoots are the order of the day and really emphasise the love and connection between you all.
Ultimately, the decision to have a family photoshoot is not a decision to make lightly. As you've read, there's so much more to consider than simply 'point and shoot'. In preparation for any shoot, I'm thinking about how best to capture your deeply held connections, and how you want these to be presented to the world forever more. As with everything, experience and professionalism will play a big part in the results you get from a family portrait photography session.
If you'd like to book a family photoshoot or would like some more information, simply head to my bookings page and follow the prompts! Or to chat now call 0414 893 056.
~Melissa x